Signals: A Group Exhibition

8

th

August – 30

th

October 2022
Galloire Presents
SIGNALS
A Group Exhibition Featuring;
Derek Boshier, Paco Pomet, JPW3, Matt Gondek and Sebastian Maas
Galloire's latest exhibition spans decades in its exploration of mass culture and media and its impact on us. The gallery presents a group of celebrated international artists, from different continents and from different generations, but who are all impacted by the same modern world of branding, commerciality and social programming.
From our earliest moments of childhood to our dying day, we are bombarded by corporations which try to grab our attention, characters which vie for our affection and voices all around which tell us how we should live our lives. By the time we reach adulthood, are our decisions and our thinking even our own, or are the synapses and signals firing inside our minds trained responses from years of mass media conditioning?
Celebrated pop artist Derek Boshier has been documenting the growing dominance of brands and advertising since he came to prominence in the 1960's. His work of that period dealt with the space race, pop music and the Americanisation of Britain, but the visual artifacts of mass culture remain potent ingredients in the artist's work today as seen throughout the works exhibited in Signals, where familiar logos and symbols appear amidst reflections on the environment, war and identity.
Whilst Boshier's art speaks out loud, far from the "silent" expected of his generation, in Spanish Painter Paco Pomet's (b. 1970) paintings we find a more whistful reflection on a time "before mercantilism and advertising flooded everything". Finding his inspiration from vintage photographs, Pomet's hyper-real environments provide a momentary sense of nostalgia, but often we find that bubble burst by the present, as the tranquil scenes are punctuated by colour, cartoons, social media icons and other stark reminders of the now: Of a Generation X first experiencing the impersonal and intrusion of new technology and media.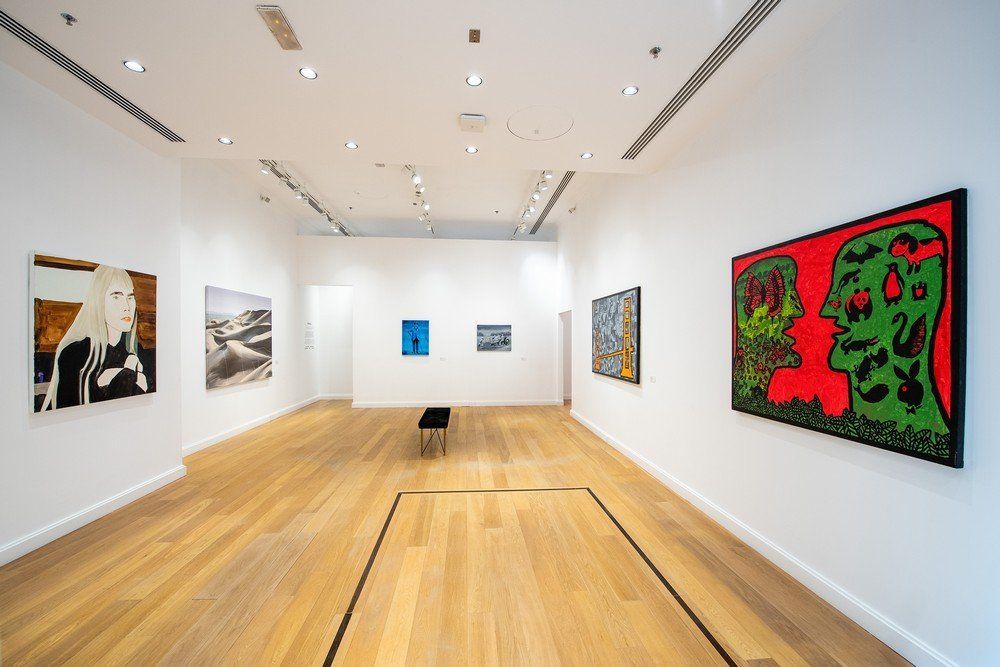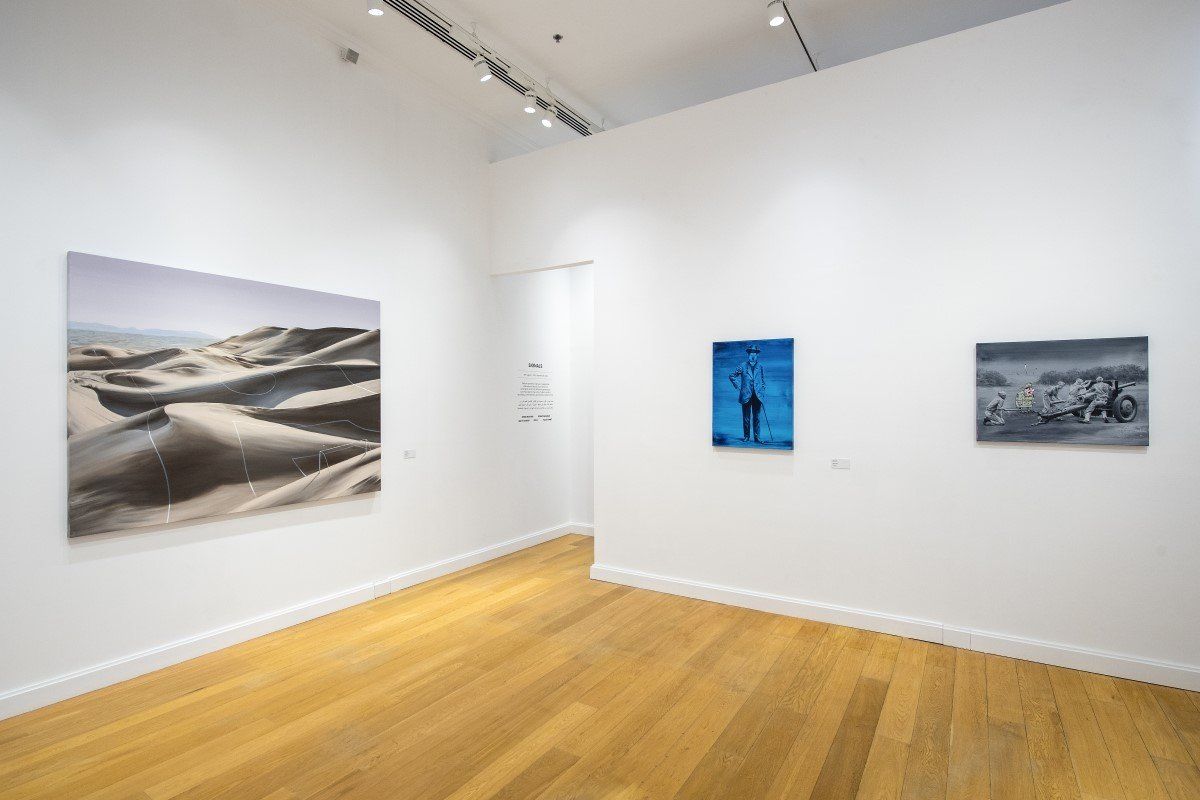 Contrastingly, the work of Millennials JPW3 (b. 1981) and Matt Gondek (b. 1983), both based in Los Angeles, combusts and explodes with a kinetic energy, intent to keep pace with a frenetic world of the internet, data, downloads and social media.
Gondek's artistic language is rooted in the 90's, with his paintings focused on iconic cartoon characters of the era who powerful brands like Disney had force fed to hungry eyes across the world. With punkish irreverence for their carefully crafted "image", he deconstructs and blows up these childhood icons. Immediately jarring to see, but with crisp lines and bright colours that feel so familiar, his paintings remain light hearted whilst still maintaining their anti-establishment punch.
"I think people just like to see things destroyed. We love to watch the mighty fall. It's why we have so many tabloid newspapers. My work uses very recognizable pop culture icons at the core–which provides the 'mighty,' and I provide the fall" Matt Gondek
JPW3's practice has always revelled in energy, fuel, combustion and heat. Whilst this has seen symbols of engines, wheels and tuning forks emerge in his paintings, in Signals we see the organic replace the mechanical.
In flowing lines, curves and spirals painted in a state of automated improvisation and Abstract Expressionist spontaneity, we are presented with positive synchronicity: That we can keep up and find fast-paced rhythm that keeps us in step with our high-speed society of technology and social media. As roots spread in "Bear Flower" and seek to connect, to plug in, to grow beyond the borders of the painting, our always-on world of interconnection feels like an opportunity not a burden.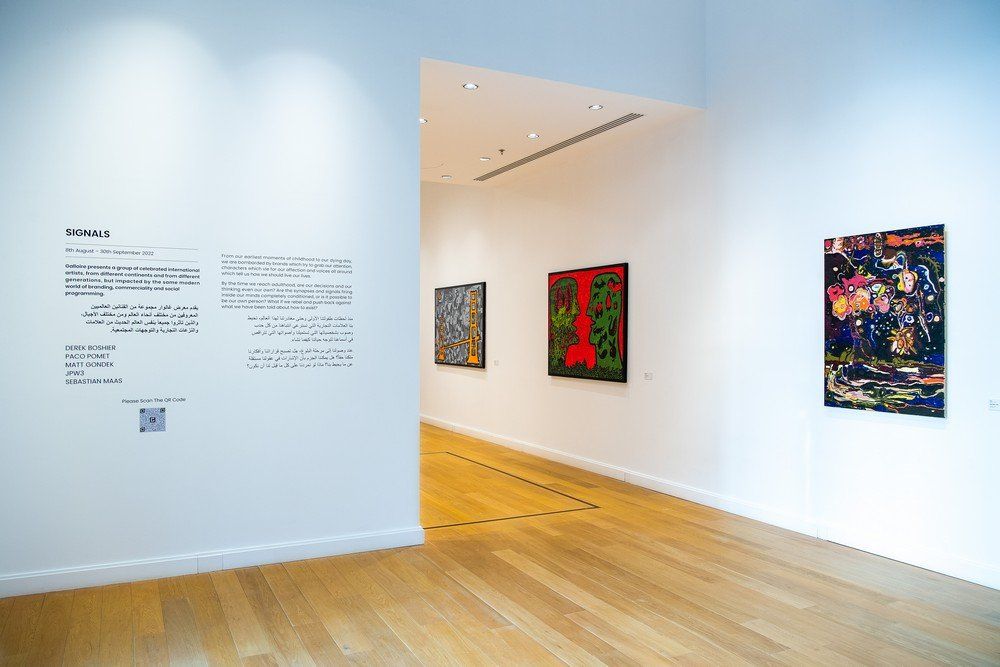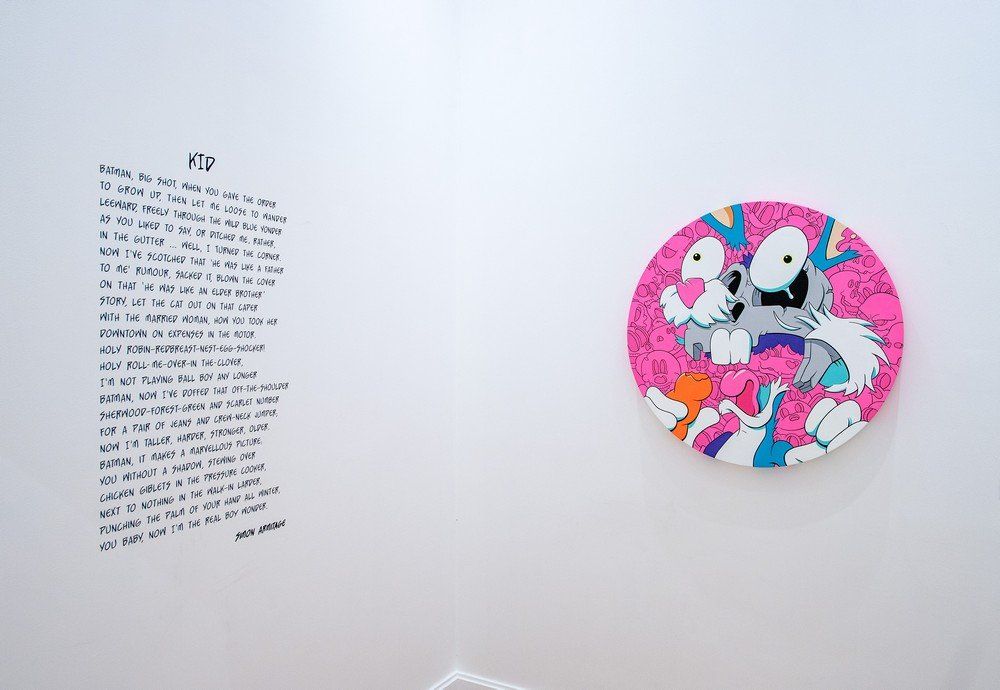 German painter Sebastian Maas integrates that idea of connection, of unified humanity, at the very start of his process. Taking a photo of himself (always the same one), he uses AI software to merge himself into another photograph, another face. These images then become the protagonists of his tableaus and the focus of his portraiture. With that foundation, that somehow we are all the same, despite our innate human desire to categorise others as different, to create borders and divisive labels, we find some core to Maas's artistic practice, as well as the drive for tolerance of diversity we associate with Generation Y.
As he challenges the perceptions of "fine art" with his medium (oil on truck tarpaulin), from the off with the works in "Signals", namely Juliet, Romeo & The Nurse, he prods the viewer to question their preconceptions around gender, race and social role. Can we only accept a Romeo who looks like Leonardo Di Caprio because that's what we've been programmed to expect? Shouldn't the man's name be first? Who is allowed to love who?